The ULTIMATE Guide: CBD, beauty & skincare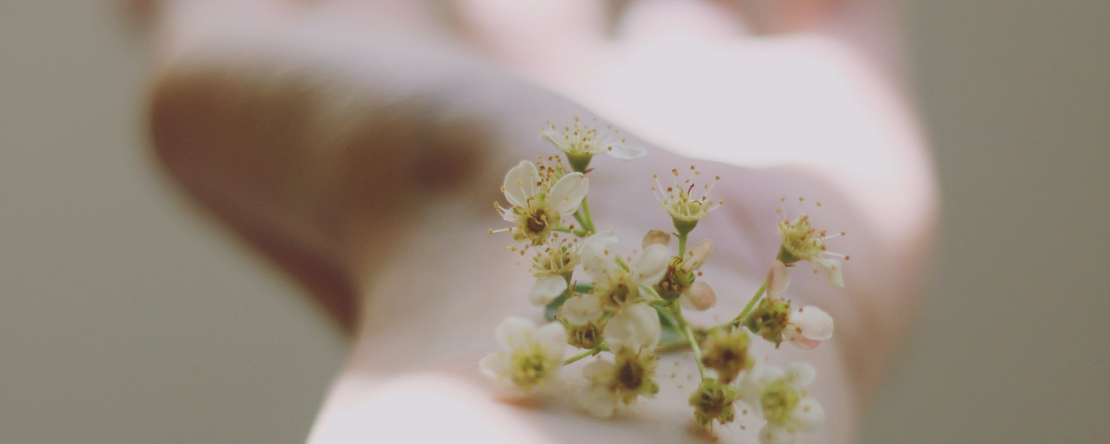 The ULTIMATE Guide: CBD, beauty & skincare
Beauty and skincare brands (and their customers) are always looking for new products that produce results, from reducing wrinkles to deep hydration or getting rid of wanted blemishes. 
In recent years, we're seeing more and more of our favourite plant-based active CBD in the beauty world. It's infused its way into everything from face creams to soaps, sheet masks and shampoo. 
In this guide, we're going to take a close look at exactly how CBD can help your skin. As well as some of the brands crafting amazing CBD skincare products. 
Why are beauty brands so keen to harness the potential of CBD? 
Before we dive in, let's remind ourselves of the CBD essentials and overarching benefits. You can skip this section if you're already a CBD pro!
Cannabidiol is a natural cannabinoid (plant compound) found in the cannabis sativa plant. It interacts with the body's own endocannabinoid system (ECS) to help restore balance, from mood to appetite. The potential benefits are wide-reaching. More research needs to be done, but early results are promising. 
Reduce anxiety: CBD is thought to have a calming effect on the central nervous system by interacting with the body's ECS receptors and neurological pathways. Scientific and anecdotal evidence point to its potential to reduce anxiety and help relax the body.
Manage pain: research suggests that CBD helps reduce pain and has an anti-inflammatory effect. As well as interacting with the ECS, it is also thought to modulate pain pathways including TRPV1 receptors.
Sleep better: research indicates that CBD could have a direct effect on the sleep cycle - increased sleep time and less frequent awakening - including the symptoms of REM sleep behaviour disorder (RBD).
CBD is also used to treat severe forms of epilepsy and could have a positive impact on the other conditions from arthritis to endometriosis and skin problems like acne, dryness, and inflammation—the bit that interests us most in this guide. 
CBD and the skin
Findings suggest that CBD has the potential alleviate or manage an array of conditions. It's still early days but, in some cases, it could even replace topical corticosteroids (minus the major side effects). 
What's the secret? 
First and foremost, CBD has an anti-inflammatory effect. Inflammation is essential for the body to fight infections and toxins. However, when it becomes chronic, it leaves the body (and skin) in a constant state of alert. Research suggests that cannabidiol is a plant-based, natural anti-inflammatory agent. 
1. CBD could help manage acne and balance the skin
The inflammatory properties we just mentioned seem to help reduce the redness, pain, and swelling associated with inflammatory acne. What's more, CBD also seems to contribute to regulating the hormones involved in producing oil (sebum).
If even you don't suffer from acne, CBD can help balance the complexion. CBD may help prevent patchy spots or an oily T-zone by assisting the skin's endocannabinoid system in maintaining hydration and reducing excess oil for all skin types.
2. CBD is thought to be potent topical antibacterial
Research increasingly suggests that cannabidiol (CBD) displays antimicrobial activity, and is capable of killing bacterial infections in the skin.
3. CBD has an antioxidant, anti-aging effect
CBD seems to reverse oxidative stress and its damaging effects. Its moisturising properties can also help combat dehydration and dryness. Hemp also contains Omega 6 and Omega 3, which stimulate collagen production and help prevent excess water loss. 
A winning combination if you are looking to target visible signs of aging like wrinkles.
4. CBD could help with other skin conditions
Research suggests that CBD could also play a role in managing the irritation and inflammation caused by eczema and chronic skin conditions like psoriasis and dermatitis. It could also calm rosacea flare ups (redness and visible blood vessels). What's more, researchers have revealed that CBD topicals can significantly improve scar tissue.
It's important to remember that research is still limited. But very promising. CBD is already considered safe to use topically. Moving forward, large-scale clinical trials will help us fully understand how CBD interacts with the skin. 
How does topical CBD work?
With purported anti-inflammatory and antioxidant properties, topical CBD products are increasingly popular including gels, creams, and lotions. They are designed to be massaged into the epidermis, the topmost layer of the skin. These products target the skin itself but won't go into the blood stream. The CBD interacts with the skin's cannabinoid receptors near the application site.
What about transdermals?
On the other hand, transdermal CBD products deliver the CBD through the layers of the skin and into the bloodstream, bypassing the digestive system. CBD patches and tape, as well as a few creams, use skin penetration enhancers to take the CBD through to the dermis that is packed with small blood vessels.
These CBD products tend to target pain, rather than skin conditions.
What are the advantages of CBD topicals?
CBD topicals are ideal for skin health and localized symptoms. Topically applied CBD has the potential to reduce inflammation, discomfort, and pain at a local level, as well as sebum production. What's more, the choice of CBD topicals just keeps growing with targeted products for different needs – from anti-acne night cream to revitalizing face masks and pain relief gels. 
Choosing your CBD skincare: format
Let's take a closer look at what's available.
Face creams, serums & oils 
This category covers the lion's share of CBD products for skincare and beauty. The product you choose will depend on the desired effect. Most CBD skincare products are combined with other active ingredients to moisture, reduce inflammation or rejuvenate. 
Serums: have a smaller molecular structure than other skincare products, like moisturising creams, lotions, and face oils. This allows them to deliver a potent hit of ingredients more quickly and deeply into the skin.
Oils and creams: the larger molecules can only penetrate the surface. They work on strengthening the skin barrier (outer layer) to minimise trans-epidermal water loss. This keeps skin hydrated and plump, improving the appearance of fine lines and wrinkles.
Soaps
CBD soaps add CBD to other soothing, cleansing and hydrating ingredients (and irresistible scents) to help reduce dryness, cracking and irrational from frequent hand washing.
Lip balms
When used in a lip balm, CBD extract works to moisturise dry, damaged lips by sealing in the moisture. As an antioxidant, CBD can  help skin stabilize free radicals so the skin can better protect itself from overexposure to the elements.
Face masks
Sheet masks made from bamboo or cotton are infused with active ingredients, including CBD (and all the benefits we looked at earlier in this article). Cream, gel, and mousse CBD masks also exist.
 Let's not forget all those eye cream rollers, shampoos, exfoliating scrubs and Co. 
Choosing your CBD skincare: quality 
Before you begin browsing the shelves, make sure you choose a reputable CBD brand that's transparent about its ingredients and processes. Here are some pointers to help you make up your mind.
Hemp source & quality
 Is the CBD organic? Does it come from country where CBD is carefully regulated?
Full-spectrum CBD, broad-spectrum CBD or CBD isolate
Full-spectrum CBD: contains all cannabinoids from the cannabis plant, including CBD and tiny amounts of THC
Broad-spectrum CBD: contains a mix of cannabinoids without THC
CBD isolate: this is pure "isolated" CBD without other cannabinoids or THC
Third-party testing
Has the product been tested by independent laboratory? Do you have access to this information?
Brand reputation
Is the brand transparent and supportive? Look at third-party testing, customer reviews, high-quality customer service etc.
Price
Cheaper products don't necessarily offer the same quality guarantees. Avoid opting for the cheapest one by default.
Discover a curated range of third-party-tested CBD beauty products on mellow
Choosing your CBD skincare: dosage
As far as dosage goes, the jury is out on how much is best. Some claim that CBD skin products should be infused with at least 100 milligrams of CBD per ounce. Others insist that, although anything less than 5 to 10 milligrams won't have an impact, more is not necessarily better.
Lower CBD levels don't necessarily mean less effective. It also depends on the CBD formulation in conjunction with other active ingredients such as collagen, vitamin C, retinol, hyaluronic acid, Manuka honey, herbs, essential oils, and aloe vera juice.
Always read the recommendations on the product carefully. If in doubt, start low and slow. Test a small amount of the product and see how your skin reacts.
Meet our CBD skincare brands
We're already converts, and our shelves are packed with CBD products to sooth, hydrate, purify and protect the skin. Let's dive in to find out more about some of our favourite CBD skincare brands 
Mission
The finest active natural botanical ingredients with the purest Cannabis Sativa CBD oil to create naturally inspired cosmetics that smell great & feel amazing.
Why CBD?
CBD provides 3 huge benefits for use in skincare. It's Antioxidant, Anti-aging & Anti-inflammatory meaning it has a wide range of beneficial topical applications - the soothing & restorative properties are truly astounding. 
We love
Jojoba Daily Lotion that combines Full-Spectrum CBD with Jojoba, white poppy seed and hemp seed oils.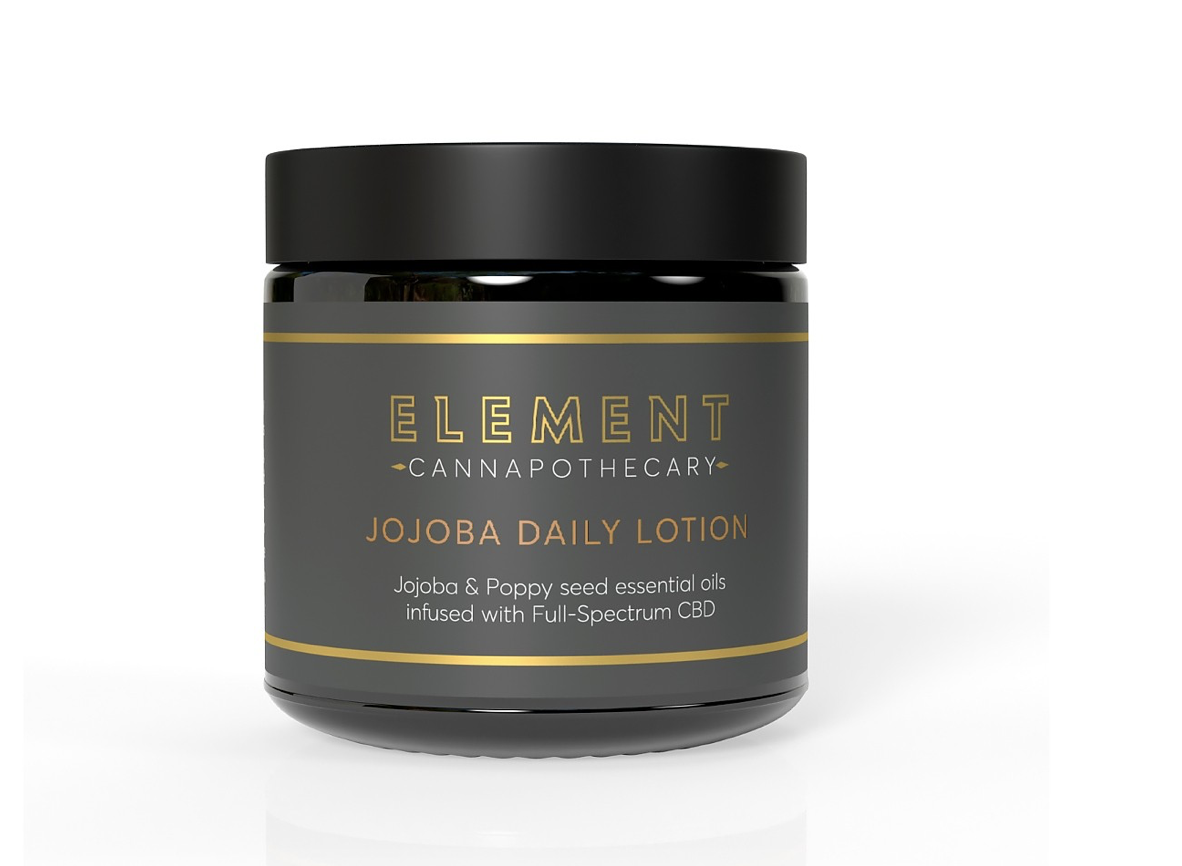 Discover a curated range of products from Element
Mission
Plant-based neurocosmetics: Inspired by nature, continuous research on plant-to-bottle formulas is our philosophy for higher efficacy.
Why CBD?
CBD brings numerous benefits to the skin including antioxidative and anti-inflammatory effects, wound healing and skin balancing. 
We love
Nourishing CBD Night Cream with Shea Butter and Hyaluronic Acid for 24 moisturisation.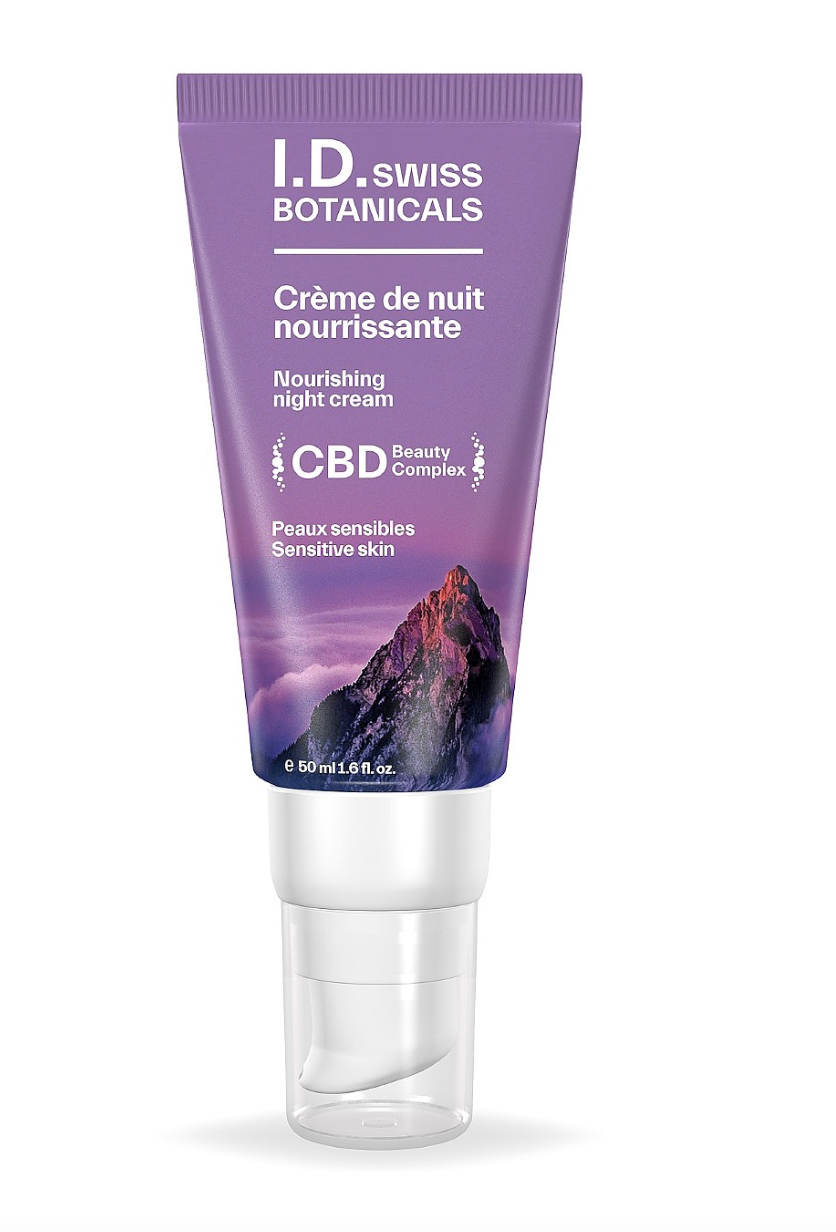 Discover a curated range of CBD products from I.D. Swiss Botanicals
Mission
We combine CBD with adaptogenic plants that have all been selected to help us meet our mission: to reduce the impact of stress on the skin. Our products are vegan and organic and use all-natural ingredients.
Why CBD?
There's a lot of ongoing research and studies into the use of CBD on the skin and we're particularly interested in 4 areas: its anti-inflammatory effects, reducing sebum production, anti-ageing and regulating cutaneous cells.
We love
50mg CBD Face Cream Essential Care with CBD, Rhodiola, elecampane and aloe vera to smooth the signs of fatigue and wrinkles, illuminate your complexion and strengthen the skin's natural defences.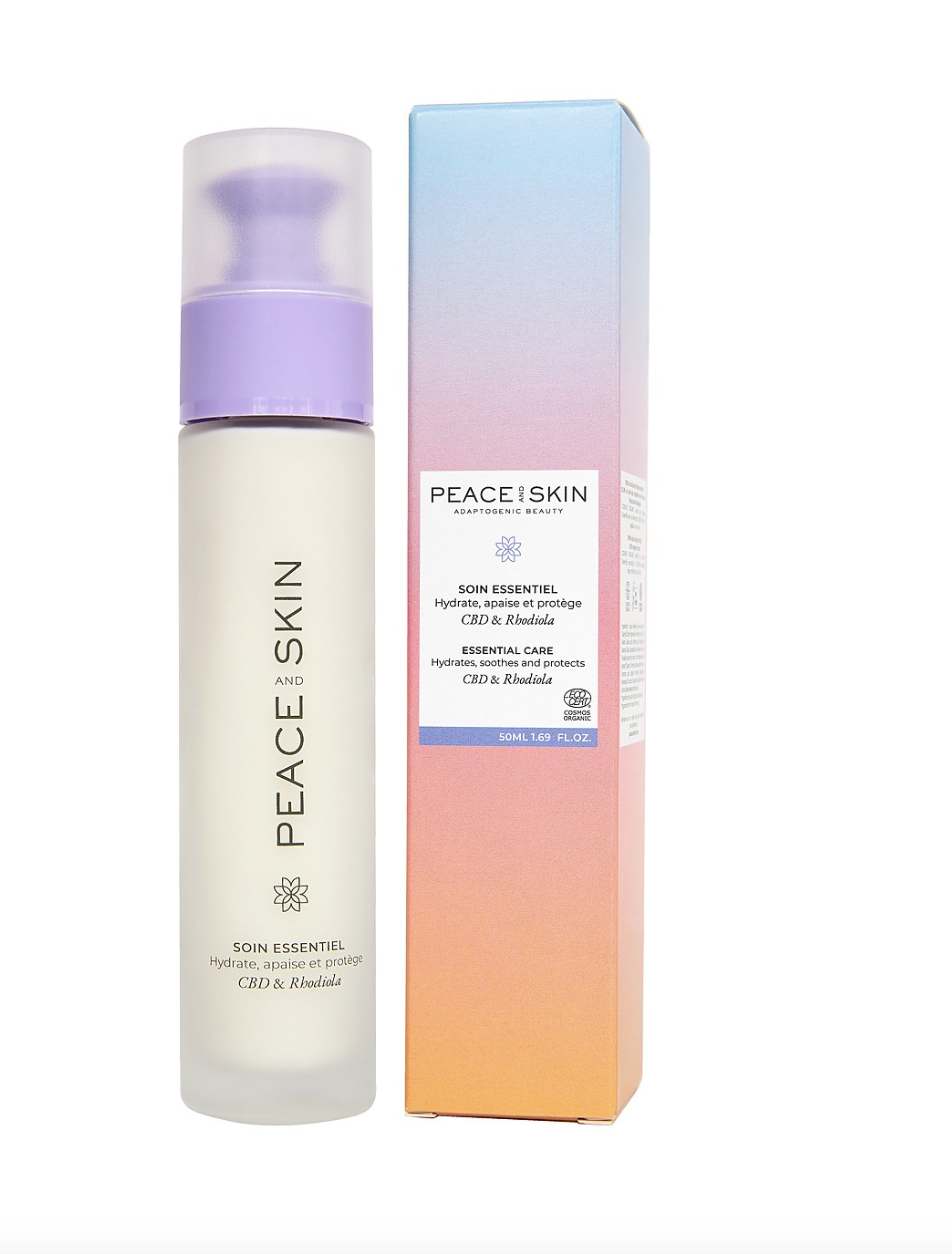 Discover a curated range of CBD products from Peace & Skin
Mission
Use plants to give your skin the love and care it deserves, preferring plant-based sources of cult ingredients such as retinol and caffeine over synthetically produced options.
Why CBD?
I believe that skincare is such a growing category for CBD because CBD is such a growing category for skincare. There is an increasing amount of evidence quantifying how CBD is a potent antioxidant and effective at helping prevent free-radical damage, as well as helping to actively regulate our skin's oil production, making it a godsend for overly oily and blemish-prone skin. The skincare industry thrives with products that work, people like to see visible results, and CBD provides that.
We love
150mg CBD Caffeine Brightening Oil Serum with a rejuvenating blend of 10 botanicals including coffee, papaya, pomegranate & cannabis sativa extract.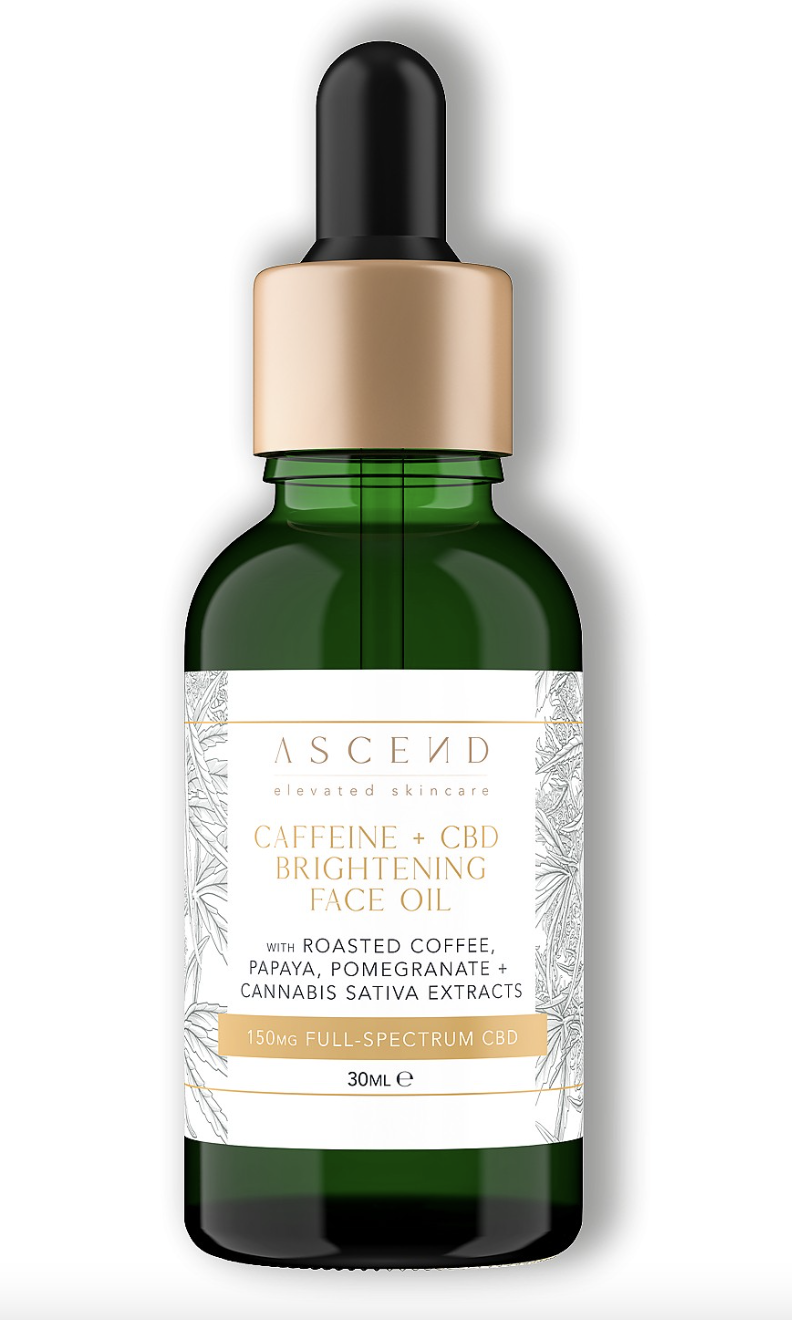 Discover a curated range of CBD products from Ascend
Final thoughts on CBD & beauty
As you've just discovered, CBD potentially has an array of benefits for the skin, from an anti-inflammatory effect to deep hydration. These are enhanced by other active ingredients like aloe vera and hyaluronic acid to target your skin in different ways. One size doesn't fit all. So, take the time to figure out what works best for you.
Questions and comments? Don't hesitate to reach out.
Alternatively, you could book a call with one of our CBD experts.
Discover our full curated range of CBD products for beauty, as well as anxiety, sleep, pain and wellbeing on mellow store.
mellow was born out of our desire to give people a one stop shop for quality CBD products — a single online destination they could trust #curated brands #full traceability