Apricot, Maple Syrup & Coconut Granola with Canamis CBD oil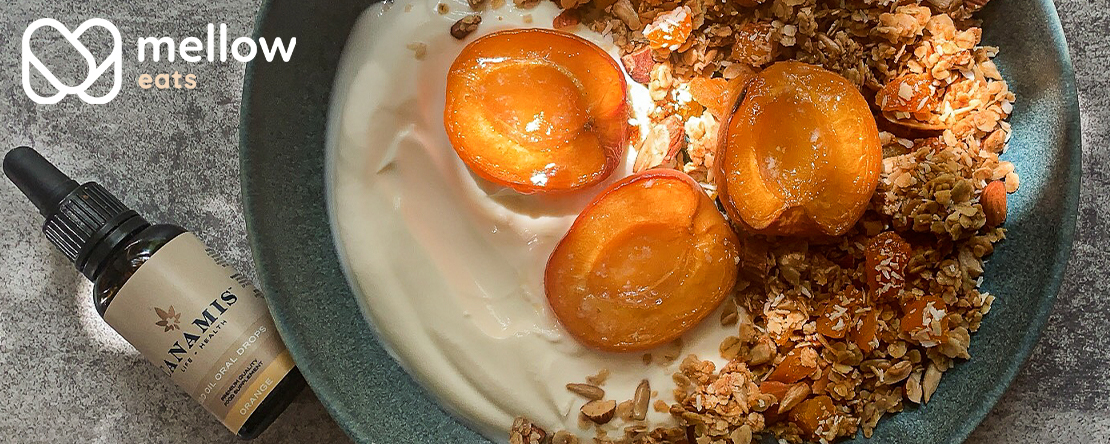 Apricot, Maple Syrup & Coconut Granola with Canamis CBD oil
We're always saying how important breakfast is. 
Back in February, we concocted Overnight Pear Porridge (with Aver Boost CBD). 
In June, we shared our recipe for Blueberry & Banana cookies (with Kith & Kin CBD oil). 
And now we're back with our very own granola recipe courtesy of Georgia Levy our in-house chef. 
 This one is packed with apricots (dried and fresh), oats, sunflower seeds and all kinds of yummy ingredients. Not forgetting CBD oil from Canamis, the latest CBD self-care brand to join our ranks.
We chatted to them last week to find out more about their inspiration and ambitions. Hop over for more insights. 
In the meantime, this is what they have to say about their Broad-Spectrum CBD Oral Drops - Orange Flavour:
A broad-spectrum CBD oil with a blend of cannabinoids, terpenes and flavonoids and completely THC free. With CBD sourced from the mountains of Colorado ad a CO2 extraction process, the CBD is carried in pure MCT from coconut oil and blended with natural flavours.
Discover a curated range of CBD products from Canamis Life & Health Ltd
Makes approx 1 kg
125ml coconut oil
150g maple syrup or honey
1 tsp sea salt
350g jumbo or rolled oats 
125g almonds, chopped
75g sunflower seeds
75g desiccated coconut
175g dried apricots, chopped
6 pipettes of Canamis CBD Oral Drops – BUY NOW
Apricots
6 apricots, halved
25g butter, but into 12 pieces
1 tbsp brown sugar
To make it yourself, just follow these easy-peasy steps
Preheat the oven to 170C/150C fan and line a large baking tray. Gently melt the coconut oil in a small pan over a low heat and stir in the maple syrup and salt.
Place the oats, nuts and sunflower seeds in a bowl and tip the syrupy oil over and stir well.
Transfer to a baking tray and spread out evenly, pressing it down into the tray with your spoon (this helps with clumping). Pop in the oven for 30 minutes, then sprinkle over the coconut and apricots and return to the oven for another 5-8 minutes until you can see that the coconut is just colouring. 
To make the roast apricots, halve each one, place cut-side up in a roasting dish and place a small piece of butter on top of each half. Sprinkle with the sugar and place in the oven with the granola for 20-30 minutes (depending on how ripe they are) until soft but keeping their shape. Spoon over some of their cooking juices as soon as they come out the oven.
Leave the granola to cool completely, then drizzle over the CBD oil and break it up with your hands to make smaller pieces and mix in the oil. 
Serve with the roast apricots and Greek yoghurt. The granola will keep for 14 days.
What better way to start the day?
 If you missed last week's mellow eats recipe, click over to discover our Pan con tomate (and CBD).