Avocado Green Goddess with Puregenics Broad Spectrum CBD Oil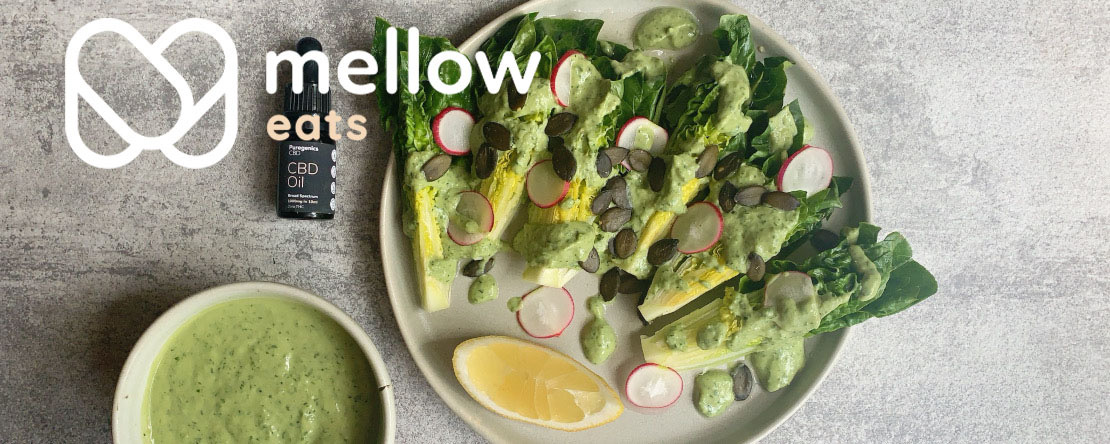 Avocado Green Goddess with Puregenics Broad Spectrum CBD Oil
Avocado is an amazing thing. 
A super food. Packed with healthy fats, as well as great flavour and a rich texture. 
So, we decided to set ourselves the challenge of combining all its benefits with a little CBD for an extra kick. 
Find out more about the result of our experimentation directly from our in-house chef Georgia Levy. 
This classic number is about as versatile as sauces get. Spoon it over a crisp green salad as you would a dressing, use it to dip your vegetables (or crisps!) into, eat with fried eggs or serve with a piece of fish and meat - the possibilities are endless. Plus, it packs a serious flavour punch - smooth, creamy avocado with fragrant herbs and a little added depth from anchovy and Worcestershire sauce (vegetarians, you can forego these). And it's a great way to enjoy your CBD oil as the oil clings to the healthy fats in the avocado to make absorption more effective. You can use whatever herbs you have at hand - basil is also great.
For this recipe, we picked 10% Broad Spectrum CBD from Puregenics, an Andalusia-based organic CBD brand. Their CBD is ethically and sustainably harvest, organically grown and third-party tested for purity. This is one is their lightest blend – a great way to get started with CBD and work out the optimal dose for you. Although they also have higher CBD strengths.
BUY NOW: discover a curated selection of Purgenics Broad Spectrum CBD
Makes a small bowl
1 ripe avocado, peeled and destoned
3 spring onions, roughly chopped
½ garlic clove, grated
A small handful of parsley leaves, finely chopped
A few sprigs of tarragon, finely chopped
A few sprigs of dill, finely chopped
75g plain yoghurt
2 tsp Worcestershire sauce
4 anchovy fillets
Juice of 1 lemon
4 pipettes of Puregenics 10% Broad Spectrum CBD Oil – BUY NOW
Here's what you need to do in 3 easy steps
Combine all the ingredients in a food processor blender and blitz until smooth. 
Add a few splashes of water to loosen - it's better for dipping when it's thick, but you probably want it a little looser for dressing your salad. 
Season to taste, then use, dip, pour and enjoy. It will last 5 days in your fridge.
We hope you enjoy this really versatile, nutrient-packed CBD recipe. We're already busy thinking up the next one to add to our mellow eats collection - coming very soon!
Missed the last recipe? Hop over to discover our Coconut Chia pots with Fresh Pineapple, Lime Zest & Tropical CBD drops.