CBD as an Alcohol Alternative: A Q&A With Kolibri Drinks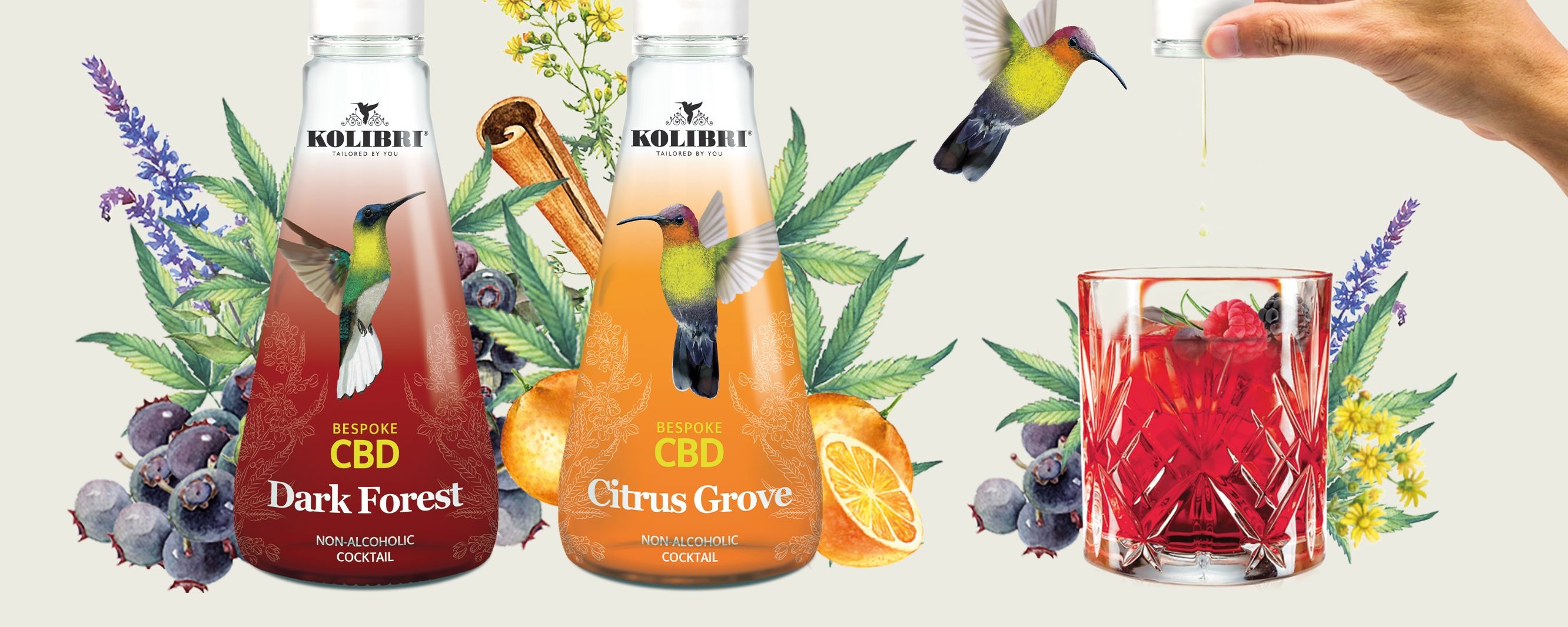 CBD as an Alcohol Alternative: A Q&A With Kolibri Drinks
This time in our Q&A series, we delve into the world of CBD-infused drinks. We spoke to Kamila Sitwell, co-founder of Kolibri Drinks, about why CBD cocktails are a valuable alternative to alcohol, as well as the Smart Cap technology that makes their drinks unique.
Q. What are your aims as a brand and how do you see Kolibri evolving over time?
A. We are a new brand, a start-up on a grand mission to create sustainable, leading brands of the future. Brands which inspire, heal and delight every time. We are not just yet another drink in a pretty bottle – we are an impact brand which happens to sell drinks.
Kolibri is committed to making a significant impact on the planet and people by creating healthy experiential drinks, leading sustainable packaging innovation, and helping people in crisis with healthcare and mental support. 
Depression is the second leading cause of disability worldwide. 1 in 4 people in the UK experience mental health issues and reach out for prescribed medication to manage their stress and insomnia and 792 million people are affected by mental health issues worldwide. Mental illnesses are more common, long-lasting and impactful than other health conditions. (Sources: Mental Health Taskforce NE: england.nhs.uk. Public Health England: gov.uk)
Kolibri champions alcohol moderation and the use of high-impact, functional ingredients such as CBD to help people find calm in the chaos. Our drinks are natural and always low in sugar. We will never use artificial sweeteners. Kolibri is on a mission to create healthy, functional brands of the future and eco-friendly packaging technology which enables personalisation, dosing and effective supplementing.
We see Kolibri as a leading brand in the functional beverages sector, setting the path for the emerging and highly-regulated CBD industry. Kolibri are the only packaged drinks in the world which enable personalisation in the ready-to-drink (RTD) market, empowering consumers with control of flavours and ingredients to match their unique taste, needs and occasions. 
Q. Why do you think alternatives to alcoholic drinks are becoming more popular? Why are people choosing CBD over alcohol?
A. Health and wellness are the key drivers behind all food and beverage categories. Alcohol has been linked to both obesity and mental wellbeing problems. Alcohol is a nervous system depressant: it alters the delicate balance of chemicals in your brain and after the initial feeling of relaxation, it can lead to feelings of anxiety and depression. So, even if it seems like you're on top of the world after a glass or wee dram, you're only really masking those anxieties and bodily pains. And, come the next morning, you can certainly tell that alcohol has not done anything good for our body nor mind – in fact, it probably made it worse.
So, why do people drink? People drink to relieve stress. People drink because of peer pressure. People drink to help them relax and have fun. People drink to reduce their anxiety. Well, CBD infusions can have the same impact and other long-lasting positive effects, too.
The fact is, CBD is a naturally occurring substance that interacts with our endocannabinoid system (ECS), promoting our bodies to do the things that the ECS is known for: reducing pain and anxieties, helping sleep, and even potentially helping to prevent a plethora of other conditions. Rather than masking and poisoning like alcohol, CBD helps our bodies and minds manage and find balance.
Kolibri Non-Alcoholic CBD Cocktails are exquisite-tasting creations with 20mg of supreme CBD which is preserved in a patented cap for you to tailor to your needs. A fantastic replacement for your glass of wine in the evening.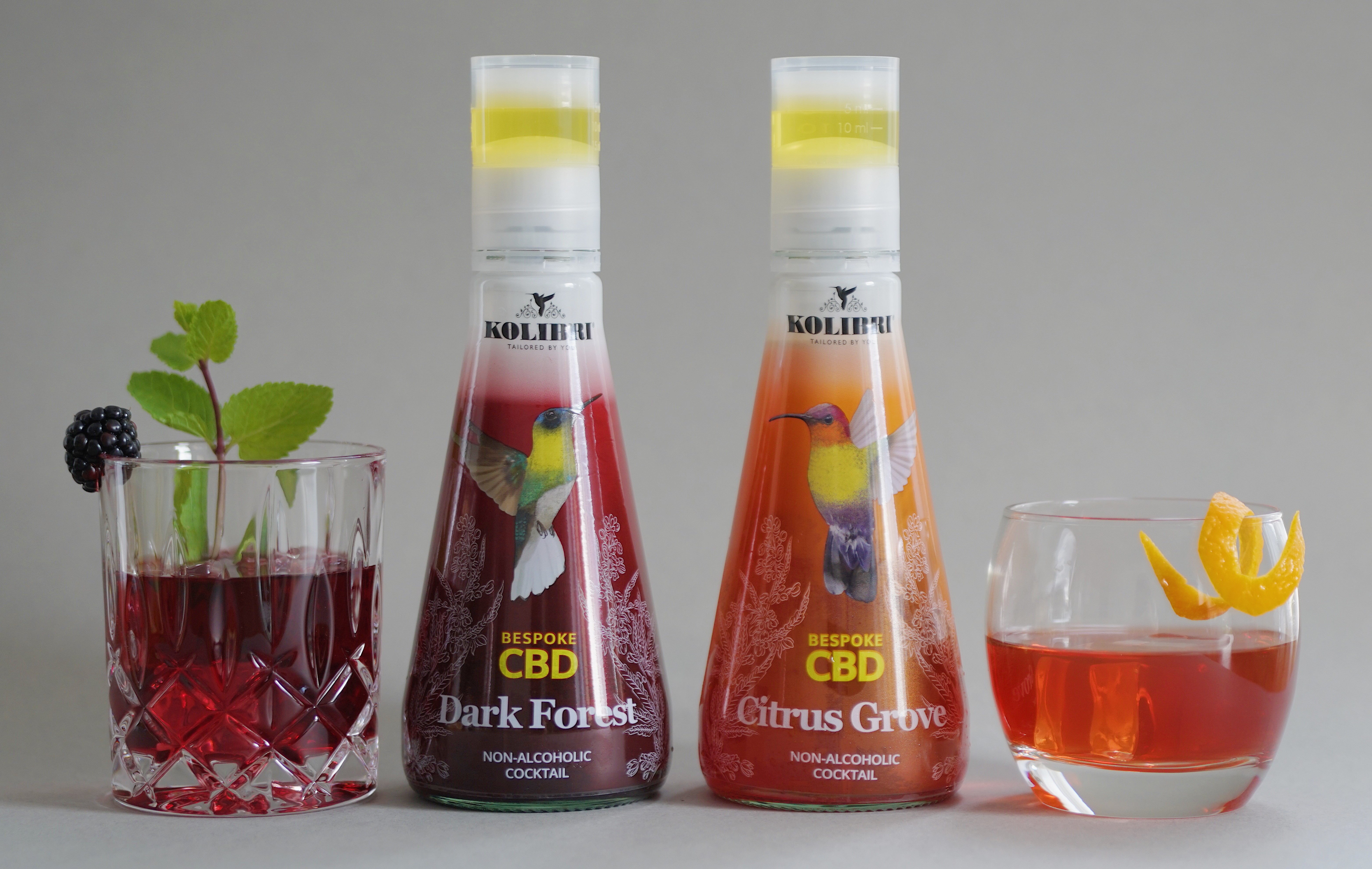 Q. Your Smart Cap offers a unique and personalised experience - can you tell us a bit more about it and how it works?
A. Kolibri Botanical Infusions were launched in the summer of 2018 and became the UK's most awarded drink brand of 2019. 
With one third (32%) of UK adults reportedly reducing their alcohol intake, and one fifth (21%) of Brits now choosing to be teetotal, Kolibri offers an exciting non-alcoholic drink choice for the wellness-first consumer who doesn't compromise on flavour or experience.
Our unique proposition is unlike any other – Smart Cap technology which keeps ingredients ultra-fresh while enabling customisation. There is no one-size-fits-all with Kolibri Bespoke Drinks, as the cap preserves the quality and offers the freedom to match drinks to personal taste and needs. 
Just remove the CBD Smart Cap, pour some of the drink into a glass over ice and then add as much or as little of the CBD to your drink as you wish from the cap. It's a similar experience to tinctures – you are in control of the dosage. Each bottle is a perfect blend of healing botanicals and cannabis Sativa to sip and savour after a busy day, helping you to relax.
A high street wellness chain first recognised Kolibri's patented micro-dosing cap technology as 'ground-breaking' and initiated collaboration on the bespoke CBD offering. This insight led to a year-long collaboration and new concept development for the emerging CBD sector, ensuring future-proof compliance with UK's regulations.
There is no one-size-fits-all solution when it comes to nutrition. Modern consumers demand transparency and control over what they put in their bodies, which the Kolibri Smart Cap enables for packaged drinks. The 'sweet spot' CBD dose is unique to the individual and depends on a range of factors such as body weight, body chemistry and the reasons for CBD use. 
Our globally patented cap technology enables personalisation, control of the CBD dosage, superior bioavailability, potency and product stability. The cap protects the CBD compound from environmental degradation while dispensing every molecule of cannabidiol straight into the drink. It just shows how diverse our packaging solutions can be for the industry.
Q. What would you say to someone who is thinking of switching to CBD?
A. Go for it! Anecdotal evidence and reports from consumers show there are a plethora of positive effects you can experience from this switch. Just make sure you buy your CBD from a reputable company, check the label, and look for clear communication on CBD dosage, type, quality and whether it's third-party independently tested. 
A big thank you to Kamila from Kolibri Drinks for taking the time to answer our questions! If you like the sound of what they have to offer, you can take a look at their bespoke CBD cocktails.