Grown in the British Isles: A Q&A With Jersey Hemp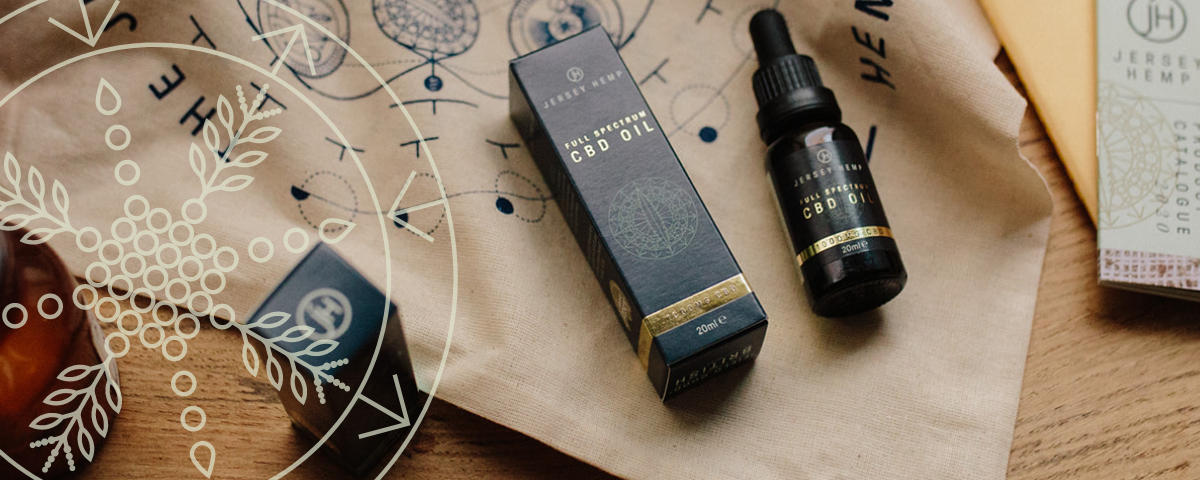 Grown in the British Isles: A Q&A With Jersey Hemp
We spoke to the team at Jersey Hemp, a brand who grow, harvest and extract CBD at their very own Jersey farm! We had a great chat about their story, the benefits of organic hemp cultivation, and CBG oil – a relatively new product on the scene.
Q. Jersey Hemp has a unique origin story - can you tell our readers about it?
A: Our story begins in 2013, when three Jersey firefighters were researching the combustion of building materials and came across 'Hempcrete', a fire-resistant and sustainable building material produced from the woody core of the hemp plant. 
That research led the firefighters to understand what an amazing product hemp was, and the goal of revitalising hemp cultivation in Jersey. Jersey is an ideal location for hemp, benefiting from the island's fertile soil and microclimate, and fits perfectly into the crop rotation of our famous Jersey Royal potato!
We are proud to have been granted a licence to grow, harvest and extract Jersey-grown CBD at our farm. From the first day, our mission has been to develop and produce the very best hemp and CBD for the people who choose to buy from us. 
As well as producing high-quality hemp products, we're also passionate about reviving the island's soil. We use organic methods and our natural hemp cultivation creates an abundance of benefits for our customers, as well as the environment and our local farmers! 
Q. What do you believe are the benefits of organic hemp cultivation?
A: Hemp absorbs minerals and nutrients from the soil. It can also absorb toxins if it's grown in poor soil conditions – that's why it's so important to choose a CBD oil made from hemp from a trusted pedigree. 
We pride ourselves on making every step of our CBD cultivation process absolutely natural. For many other farmers, however, pesticides are used regularly. Although the aim of pesticides is to target and wipe out the pest, it can also harm the environment as well as leaving traces on the hemp plant. 
Additionally, toxins may remain on the hemp plant used to produce CBD or CBG oil. So, why take the risk of consuming pesticides when there are more natural alternatives out there? Simply put, healthy soil produces healthy hemp plants, which means that our Jersey Hemp products are the best they can be.
Q. How is your CBD oil made and why do you believe it stands out?
A: We're currently the only brand in the British Isles to be licensed to cultivate, harvest and extract CBD from our hemp plants. Our farm is on the beautiful island of Jersey, surrounded by sea and warm salt air, which allows us to grow our hemp with extra care. 
Jersey's soil is naturally nutrient-rich and famous worldwide for its high quality, nourishing our premium crops of Jersey Royals and providing acres of lush grazing for our Jersey dairy cows. 
When it comes to extracting, we use an industry gold standard cryogenic organic ethanol extraction at very low temperatures, which enables us to carefully extract a complete range of beneficial plant chemicals, preserving delicate terpenes and improving the cannabinoid spectrum. 
There are no harsh solvents in our process, so you can be sure of getting a consistently high-quality product that's better for you and for the environment! You can also check the third-party lab reports for every batch of CBD oil we produce.
When we started Jersey Hemp, we wanted to help everyone achieve a better quality of life. That's what drives us to produce the best CBD and hemp products possible.
In fact, we're very proud that our CBD oils were named 'one of the most compliant, high-quality and accurately labelled products tested' from a range of CBD high street products assessed by The Centre for Medicinal Cannabis, the UK's industry membership body for businesses operating in CBD wellness markets.
Q. As well as CBD oil, which most people are growing more familiar with, you also produce CBG oil. Can you tell us a bit more about this product and why you make it?
A: The hemp plant contains hundreds of cannabinoids, including the well-known cannabidiol (CBD) as well as cannabigerol (CBG). Our body makes its own cannabinoids, called endocannabinoids. As part of our body's endocannabinoid system, we have cannabinoid receptors, which help to regulate a range of normal functions including mood, metabolism, pain response and appetite. 
CBG is the hemp plant's precursor to CBD, so it's similar in how it works with your body to support your wellness routines. However, CBG has been shown to be more potent in activating the endocannabinoid receptor system compared to CBD.
Research conducted on CBG is still in its early stages, but it does look promising. Our goal is to help all of our customers support their wellbeing, and we simply want to offer products of the highest quality in order to make their life better. 
Q. What advice would you give those who are looking to try hemp-derived products?
A: As with any new supplement, it's sensible to buy from a destination that you trust. If you try a product that doesn't live up to the promise on the label, and see no difference to your general wellbeing, then you're less likely to try it again!
To us at Jersey Hemp, it's very important that our customers can trust and rely on our products. That's why we use stringent third-party testing and analysis for each batch of CBD oil we produce. 
We want to ensure that the people who choose to buy our products have a trusted guarantee of purity and quality with every single product they buy. After all, the reason we are in the business of cultivating and selling hemp products is to naturally improve the quality of people's lives!
Thanks so much to the Jersey Hemp team for taking the time to delve behind the scenes at their Jersey farm and giving us some insights into their product range. If you like the sound of their approach, you can view the full range of Jersey Hemp products.