Overnight oats to boost your mood with Provacan CBD oil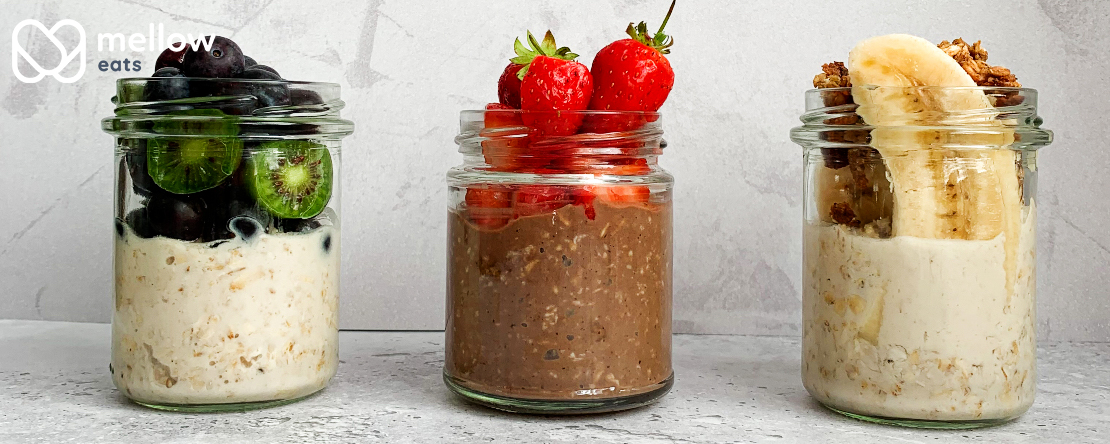 Overnight oats to boost your mood with Provacan CBD oil
Oats are a versatile breakfast food that can be adapted to your every desire. 
They are packed with great nutritional content like fibre and keep you feeling full (and in good spirits) all morning. 
What happens if you mix oats with CBD and yummy adds-in like fruit and chocolate? 
CBD, like Provacan's 600mg CBD spray used in our recipe, has been shown to help calm the nervous systems through interactions with the body's endocannabinoid system 
Chocolate is rich in mood-boosting compounds: phenylethylamine is a natural antidepressant and one of the chemicals your brain produces as you fall in love; amino acid Tryptophan is linked to the production of serotonin, a neurotransmitter that produces feelings of happiness
Bananas help synthesise feel-good neurotransmitter Serotonin to reduce stress and anxiety
Berries are rich in antioxidants and help reduce the inflammation associated with depression, while also boosting your memory
To make the most of these benefits and stock up for a busy day, our in-house chef Ana came up with 3 oat recipes to try out. 
THE RECIPES
Serves 3 small jars/ bowls 
FOR THE OAT BIT
4.5 oz (roughly 130g) oats
8 fluid oz (roughly 240ml) nut milk
2 fluid oz (roughly 60ml) soy yoghurt 
These measurements don't need to be too precise; you can always add some extra milk before you sprinkle on the toppings. Test and try to see what kind of texture you prefer. And,  scale up if there are lots of you. or you're very hungry!
THOSE YUMMY EXTRAS
Chocolate oats
1 tsp cacao powder
1 tsp hazelnut butter
Handful of strawberries 
Provacan 600mg CBD spray
Blueberry oats
Handful of blueberries
Handful of kiwi berries

Provacan 600mg CBD spray
Banana oats
Banana (sliced length or width ways)
Handful of granola
Provacan 600mg CBD spray
In 5 easy steps
Mix all the ingredients for the oaty base and leave overnight
Divide the mix into 3 small jars
Mix in the cacao powder and hazelnut butter (for the chocolate version)
Add some of Provacan's 600mg CBD Spray - based on your desired dosage, if in doubt start slowly with just one spray
Sprinkle on the toppings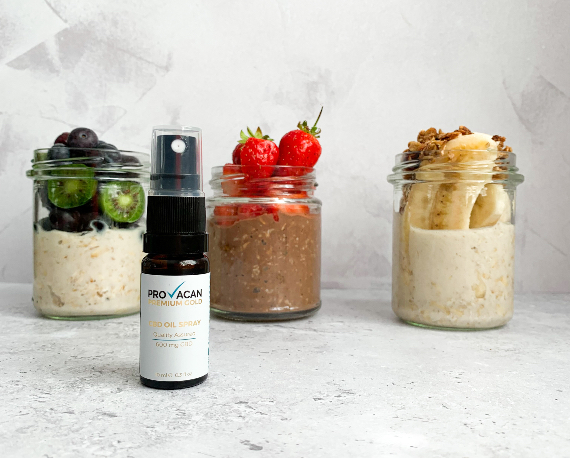 If you missed our mellow eats recipe for a tropical green smoothie bowl – it's this way.