Pan con Tomate with energising FourFiveCBD oil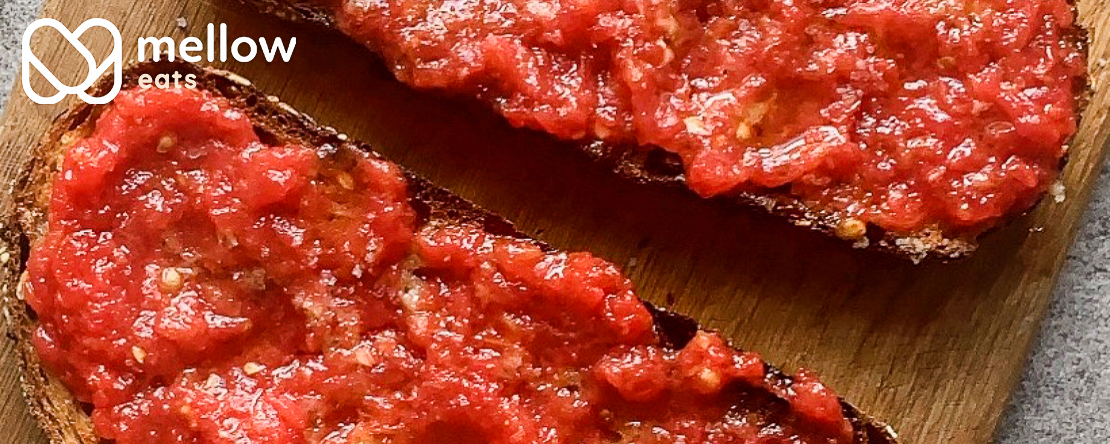 Pan con Tomate with energising FourFiveCBD oil
Juicy, ripe, fragrant tomatoes are one of the joys of summer. 
And no country is more aware of this than sunny Spain and, in particular, Catalonia. 
To savour their delicious tomatoes in a simple (yet oh-so-delicious) way, they came up with Pan con Tomate (or in Catalan pa amb tomàquet). 
The story goes that the Catalans took the Mediterranean tradition of drizzling bread with olive oil with a little salt and added tomatoes – when they were brought over from America in the 18th/19th century – to soft it. The Catalans tend to rub the bread with tomatoes, while elsewhere they add a layer of tomato pulp on top. 
We decided to add our own twist to this classic recipe with little extra energy from FourFive CBD's 1000mg Broad Spectrum CBD Oil Spray - 30ml. Run by two professional rugby players, this CBD brand is determined to keep you feeling active, energetic and healthy.
Here's what our in-house chef Georgia has to say about the latest mellow eats recipe:
This is the Spanish answer to tomato bruschetta and is one of the greatest ways to celebrate a ripe tomato during these summer months when they're at their best. Using just 5 simple ingredients and 5 minutes, you can make an absolutely knock-out breakfast, lunch or snack. Plus adding a little drop of energising FourFiveCBD oil means you're giving yourself an extra little boost to your day.
Serves 1
2 slices of sourdough or other crusty bread
1 large ripe tomato
1 small garlic clove, peeled
2 tbsp extra-virgin olive oil, plus extra, to drizzle
2 sprays of FourFive CBD oil – BUY NOW
Here what you need to do:
Pop your bread in the toaster.
Meanwhile, cut the tomato in half and using a coarse grater, grate the tomato into a bowl so you only have the skin left. Pour in 2 tablespoons of oil and a pinch of salt.
Gently - or vigorously if you love garlic - rub the toast with the garlic clove so it leaves behind its fragrance, then spoon the tomato and its juices over the toast. Alternatively, cut the tomato in two rub it on to the bread – if you prefer the Catalan way.
Drizzle with a little more oil, spray each slice with a little CBD oil and serve immediately with a pinch of basil or dried oregano if you like.
Also delicious with a fried egg and a couple of slices of serrano ham.
Did you miss our last mellow recipe? Check out our Chocolate and Avocado Mousse with Beliebis Broad Spectrum 10.8%.

For more CBD recipe inspiration, discover a curated selection of CBD products from four five CBD and other quality-conscious brands at mellow.