Refreshing blend of CBD & botanicals & tonic
Refreshing blend of CBD & botanicals & tonic
Sharing a drink with friends and loved ones is a great way to disconnect and relax. If you want to enjoy these convivial moments, while reducing or steering clear of alcohol—for whatever reason—low-alcohol cocktails and mocktails are a great alternative. And far more interesting (and tasty) than your average soft drink. 
With this in mind, we decided to concoct a new mellow eats recipe—packed with flavour and the potential benefits of CBD. 
For this one, we picked an herby (low alcohol) botanical blend, although you can switch in gin if you're a g&t fan. We then added in refreshing cucumber and EthicaCBD oil. 
This brand is on a mission to bring the benefits of Cannabidiol to all, while respecting "people and planet." More insights, this way.
Discover a curated selection of EthicaCBD products
If you're new to CBD, it's best to stay on the cautious side when mixing CBD and alcohol – different people can react differently. This is why we suggest opting for a low-alcohol gin or botanical blend like those by Mary. Start low and add a little more CBD next time if you want to boost the effects. 
THE RECIPE
SERVES 1
1.5 fl oz (roughly 42ml) low- alcohol botanical blend like Mary (or gin)
3.5 fl oz (roughly 100ml) tonic water
1/4 cucumber sliced lengthways with a peeler
5-10 drops Ethica CBD oil – BUY NOW
Ice cubes or crushed ice 
Rosemary to garnish 
Here's what you need to do
Add the ice cubes and your cucumber slices
Drop in your Ethica CBD oil
Add the botanical blend/ gin and top up with tonic 
Sprinkle in the rosemary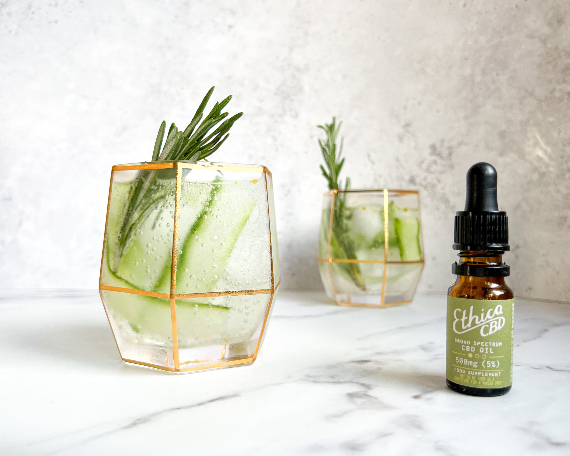 If you missed our last mellow eats recipe for overnight oats, head this way.