Swiss Skincare Science: A Q&A With VIRISENS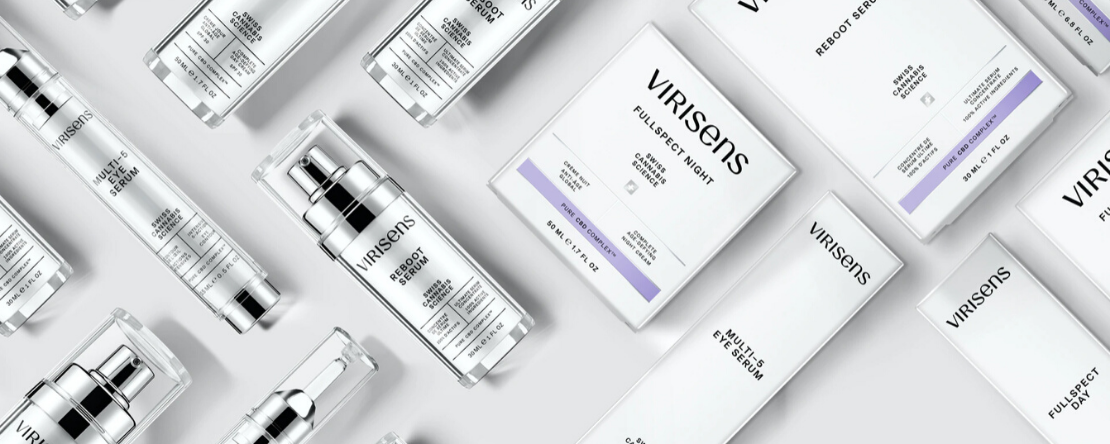 Swiss Skincare Science: A Q&A With VIRISENS
With our Q&A series, we want to give you an insight into the different brands available here on the mellow store. This time, we spoke to Théodora from VIRISENS about the science behind their cosmetics and why CBD is such a valuable ingredient in skincare.

Q. What makes your brand unique?
A. VIRISENS is the first Swiss safe cosmetics brand to offer formulations based on the unprecedented healing virtues of cannabis.
By combining cannabis molecules in their purest form with the latest-generation cosmetic ingredients selected for their effectiveness, VIR­ISENS has created a full range of skincare products combining the best of nature and biotechnology.
All products are formulated with safe active ingredients and clinically-proven action. They are devoid of any controversial substances and contain no endocrine disruptors. They combine the properties of pharmaceutical efficiency and precision with gentle and traceable sources that are mainly rooted in Switzerland.
VIRISENS is the perfect balance between cutting-edge cosmetology, purity, and safety.

Q. Can you tell us a bit about your Pure CBD Complex?
A. Years of research have shown that cannabis, and more specifically CBD, ensures an intense cell regeneration and perfect skin protection. Scientifically known for its calming properties, CBD is bursting with powerful antioxidants, is antiseborrheic, and fights the effects of pollution thanks to its proven skin conditioning and protecting virtues*.
Knowing that 80% of skin aging is linked to oxidation and cellular microinflammation, Laboratoires VIRISENS have focused their research on CBD's multiple, scientifically-proven benefits on skin health to formulate advanced skincare formulas. The choice of pharmaceutical-grade BIOTECH CBD® appeared as the obvious cosmetics ingredient to deliver safe and optimal results.
Because it is undiluted, this last-generation active ingredient has an incredibly powerful effect on the skin. From defying the signs of aging to restoring natural glow, pharmaceutical grade BIOTECH CBD® is 100% pure and can be combined to suit any skin type or concern.
Environmental aggressors create oxidative stress that damages skin cells, causing premature aging. Over the years, micro-inflammations attack our dermis, weakening the cells' defences. Poorly protected, the skin becomes dehydrated, it slackens, and wrinkles appear.
VIRISENS' response is the creation of PURE CBD COMPLEX®, an innovative cellular regeneration technology. This unique synergistic complex combines pharmaceutical-grade cosmetic ingredients like Biotech CBD® and micro-fragmented Hyaluronic Acid with last generation vegetal stem cells. It prevents the signs of cutaneous ageing thanks to its powerful antioxidant action. It restructures the extracellular matrix and restores the skin's barrier function. Lastingly hydrated, toned, and soothed, the epidermis recovers all of its natural radiance.
* COSING: THE EUROPEAN COMMISSION DATABASE FOR INFORMATION ON COSMETIC SUBSTANCES AND INGREDIENTS
Q. What other ingredients do you use in your cosmetics?
A. Our mission is to provide clinically effective and exclusively formulated skincare products with precisely-dosed and safe ingredients that respect the skin's health and fineness.
Whether stemming from nature or biotechnology, all the active ingredients are carefully selected for their performance and perfect safety. Endocrine disruptors, allergens, and controversial substances are rigorously labelled and banned from all VIR­ISENS products.
The R&D department of VIRISENS Laboratories examines all ingredients beforehand. To be chosen, these must meet ALL the quality criteria the brand holds dear, namely:
1- Locally sourced, mainly in Switzerland
2- Proven to be the safest and most effective in their class
3- Approved for perfect synergy with the other formulations' active ingredients
4- Dermatologically tested
5- Certified healthy for all skin types, even the most sensitive
6- Eco-friendly
7- 100% vegan
Q. What are the benefits of CBD skincare?

A. We believe cannabis is a miracle from nature:
A plant bursting with antioxidants and calming properties.
A proven action on the neutralisation of sebum hypersecretion.
A perfect ratio of omega 3 and 6 essential fatty acids.
An unparalleled concentrate of vitamins E, A, B1, B2, and B6.
As a plant with a thousand powers, cannabis ensures an intense cell regeneration and perfect skin protection.
Q. What is the history behind the creation of VIRISENS?

A. VIRISENS is the story of an encounter between a pioneer of the Swiss cannabis industry, Mathieu Marcoulides, and a virtuoso of "safe cosmetics", Dr Olivier Stahl. It is the alliance between unique expertise in cannabis and leading experience in advanced cosmetic research and innovation.
Together, they research safe and effective solutions to offer the skin greater results in cell regeneration, for an overall age-defying effect and have developed the first cannabis-based cosmetic complex: PURE CBD COMPLEX®.

If you like the sound of what VIRISENS have to offer, you can browse their full skincare range.
Thank you very much to Théodora from VIRISENS for offering some more insights into the science behind their CBD skincare products and what inspired the founders of their brand. Keep checking our blog for more just like this!