Broad-Spectrum CBD Oils
Broad Spectrum CBD oils are versatile, contain zero THC and have an array of potential benefits - from managing pain to feeling less anxious. Choose the bottle size, amount of CBD and strength to meet your needs and preferences.
Before you start, it's important to consider what kind of CBD is right for you. It can be difficult to work out the differences between Broad Spectrum CBD, Full Spectrum CBD or CBD Isolate. Many people opt for Broad Spectrum CBD oils because of the combined effect of different natural compounds in the cannabis plant, without the risk of taking any THC. Read on to find out more.
What is Broad Spectrum CBD
Broad spectrum CBD oil contains many beneficial cannabis plant extracts including essential oils, terpenes and cannabinoids like cannabinol (CBD). However, all the THC - which has a psychoactive effect that makes you "high" - has been removed. This means the CBD won't show up in a drug test and won't cause any problems with local laws. This is a good place to start if you're afraid of THC.
What is Full spectrum CBD?
Full-spectrum CBD oils are similar to Broad Spectrum CBD, but they also contain a little THC that is thought to enhance the benefits without getting you high (the amounts are still very small – under 0.3%).
What is CBD isolate?
CBD isolate is the purest form of CBD (99%). All the other cannabis plant compounds have been removed, so you get the highest concentration of CBD per serving.
Understanding the entourage effect
Many researchers believe that broad-spectrum CBD oils (and full spectrum CBD oils) have a more potent effect as all the different cannabis plant compounds work best together in synergy, amplifying the therapeutic properties. They call this the 'entourage effect.' More research needs to be done to determine just how the entourage effect works and what it means in terms of health and wellbeing benefits.
Some of the additional cannabinoids in broad-spectrum extracts include:
Cannabinol (CBN)
Cannabichromene (CBC)
Cannabigerol (CBG)
Cannabidiol acid (CBDA)
Cannabidivarin (CBDV)
Why choose broad-spectrum CBD Oils?
Research into CBD began in the 1960s and has been picking up pace ever since. Although there are still lots of gaps and there is less research in broad-spectrum CBD oil than full-spectrum CBD, the results so far suggest there is huge promise. The potential benefits when taking broad spectrum CBD oil are wide ranging:
Managing pain: Studies suggest that CBD may help reduce chronic pain by interacting with the body's endocannabinoid receptors and neurotransmitters, as well as reducing inflammation.
Reducing anxiety: CBD oil could also potentially help treat depression and anxiety as it has an impact on the central nervous system with a calming effect that helps restore balance.
Helping manage cancer: CBD could also help manage or reduce symptoms for cancer sufferers, as well as the side effects of cancer treatments such as nausea, vomiting and pain.
Reducing acne: Recent studies suggest that CBD oil's anti-inflammatory properties and capacity to reduce sebum production could help treat acne.
Managing Neurological disorders: Researchers are keen to determine the possible benefits of CBD oil for neurological disorders like epilepsy and multiple sclerosis. Several CBD-based epilepsy medications are already available.
Looking after the heart: Research has also linked CBD with benefits for the heart and circulatory system such as lowering high blood pressure.
CBD research has a long way to go, but as CBD oil becomes more mainstream, researchers continue to explore the potential benefits of full-spectrum and broad-spectrum CBD products for our health and wellbeing. So watch this space.
What do broad spectrum CBD oils contain?
The cannabis plant is packed with beneficial compounds and many of these are found in your broad-spectrum CBD oil.
Cannabinoids. There are more than 100 cannabinoids including CBD. In broad-spectrum CBD products, the THC has been removed.
Terpenes. 150+ terpenes determine the plant's fragrance and could also have their own therapeutic benefits.
Flavonoids. 20+ different flavonoids that could also have an array of benefits including anti-inflammatory, anti-cancer, and neuroprotective properties.
What kind of broad-spectrum CBD oil is right for you?
Broad-spectrum CBD oils can be taken with a dropper or spray under the tongue. Looking for an alternative delivery method? You'll also find broad-spectrum CBD edibles like gummies and broad-spectrum CBD topicals in the form of creams, lotions and gels. CBD also comes in capsules that are really easy dose and carry around.
How to pick your broad-spectrum CBD oil
When choosing your CBD oil, we suggest considering different safety, quality, and transparency criteria such as:
Is it made by a company with third-party testing by an ISO 17025-compliant lab?
Is the hemp grown in a country with stringent regulations like the US?
Does it pass tests for things like pesticides, heavy metals and mould?
To discover all our broad-spectrum CBD oils, shop over to mellow store.
If you're looking for CBD tips and advice, discover our blog.
Key points
Broad-spectrum CBD oil essentials
Contain all the active extracts from cannabis plant except THC
No risk of psychoactive effects, won't show up in a drug test
Researchers believe the "entourage effect" enhances the potential benefits
Often applied sublingually (under the tongue) using a dropper
Can also be taken as a spray, capsules, edibles or applied topically
All CBD products on mellow are 3rd party tested
Read More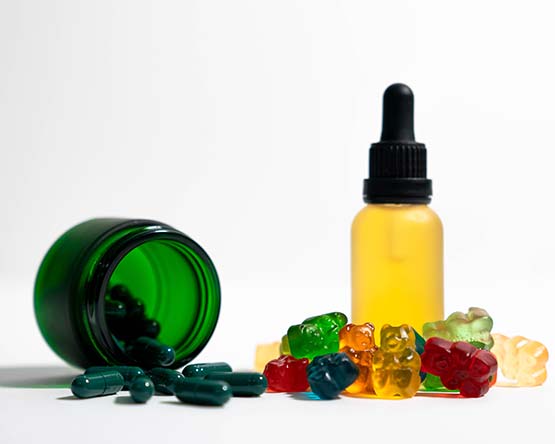 Choosing the right CBD product
We understand it can be quite daunting when choosing your first CBD product so have a read of our handy guide to help you choose the product that's right for your needs.
Help Me Choose
Broad-Spectrum CBD Oils

FAQ

What about CBD Isolate?

CBD isolate only contains CBD and doesn't have any other additional compounds from the cannabis plant.

Which is best Full Spectrum CBD, Broad Spectrum CBD or CBD Isolate?

CBD is very personal. It affects everyone differently, so the "best" product will depend on your specific needs and preferences. Interested in the potential therapeutic benefits of combining different cannabis compounds? Full-spectrum CBD is a good place to start. If you're sensitive to THC or want to avoid it, we recommend trying broad-spectrum CBD oil. That way, you'll still get some of the benefits of the entourage effect but without the risk of taking any THC. And, if you're keen on taking pure CBD with no additional active compounds, CBD isolate is ideal.

What's the most common delivery method?

CBD oil is usually sublingually using a dropper or spray. By applying it under your tongue, you will feel the effects of the CBD oil more quickly, as it goes straight into your blood stream. Alternatively, you could use the dropper to add the CBD oil to your food or a drink. Broad-spectrum CBD oils also come as capsules and topicals – a gel, cream or lotion that is applied directly to the affected area to manage targeted pain.

What's the recommended dosage for broad-spectrum CBD oil?

Recommendations vary and dosage will also depend on factors like your weight and desired benefits. Start with about 20mg per day and gradually increase this by 5mg a week until you start feeling the benefits. For CBD edibles and capsules, you can easily work out how much CBD there is in each serving, as it's indicated on the label. If you've opted for CBD oil with a dropper, some brands include how much CBD is in each drop, while others only include the total amount of CBD in the bottle. Most will give guidelines for how much to take when starting out. Remember that one drop (not a full dropper) is about 0.05 millilitres (ml). A 10-ml bottle of CBD oil contains roughly 200 drops, so divide the total amount of CBD by the number of drops.

What is the difference between hemp and marijuana?

Both plants are similar, but marijuana contains a lot more THC. This is the psychoactive compounds that makes you feel high. Hemp, on the other hand, only contains small amounts of THC, which is completely removed in broad-spectrum CBD products.

What are the side effects of taking CBD?

CBD oil is well tolerated and considered safe. However, as with all supplements, in rare cases, it may cause adverse reactions. In studies, side effects include diarrhoea, changes in appetite and weight, and fatigue.

What is CBD oil?

CBD is extracted from the Cannabis sativa family of plants using solvents like CO2. It is then dissolved in a carrier oil like hemp seed or coconut oil.

What's the difference between full-spectrum and broad-spectrum CBD?

Full-spectrum CBD oils combine many naturally occurring cannabis plant extracts including essential oils, terpenes and cannabinoids like cannabinol (CBD) and THC. Broad-spectrum CBD is similar as it also contains additional cannabis plant compounds. However, in broad-spectrum CBD oils the THC has been removed and won't show up in a drug test.