Narrow-Spectrum CBD Oils
Narrow-Spectrum CBD oils offer highly distilled CBD with a lighter, smoother taste. Potential benefits range from managing pain to feeling calmer and more relaxed. Pick the strength and format that fit your needs.
When you're just discovering CBD, it can be challenging and rather confusing to choose which product you want and need. You come across terms like THC, full-spectrum, and terpenes without necessarily knowing what they really mean. To help you work out if Narrow-Spectrum CBD oil is for you, we've collected together an array information and advice.
Keep reading to get to grips with the differences between Narrow Spectrum and Broad Spectrum and decipher the labels on CBD products.
First things first, what is CBD?
CBD is a naturally occurring compound found in the Cannabis Sativa plant family. Its official scientific name is Cannabidiol, and it's the most abundant cannabinoid - just ahead of tetrahydrocannabinol (THC). While this psychotropic compound remains illegal in the UK, CBD doesn't get you high and is widely available both online and on the high street.
Depending on the extraction process and other compounds it contains, CBD has different properties, tastes, texture and delivery methods. To differentiate these products, we refer to a "spectrum".
What is Broad-Spectrum CBD oil?
Broad-spectrum CBD oil contains numerous cannabis plant extracts including essential oils, terpenes and cannabinoids like cannabinol (CBD). These are retained during the double distillation-extraction process. As a result, they offer a stronger flavour, thicker consistency. However, it is important to note that all the THC has been removed.
How is Narrow Spectrum CBD oil different?
The difference really comes down to the extraction process. Narrow Spectrum CBD products provide CBD in more filtered form. For a lighter flavour, advanced chromatography and distillation techniques are used during extraction. This creates a "ultra-distilled" CBD oil with lower amounts of other naturally occurring cannabis compounds. There is no THC.
What about Full-Spectrum CBD?
Like Broad Spectrum CBD, Full Spectrum CBD oils are packed with different (complementary) plant compounds. But they also contain very small amounts of THC – many believe this enhances the benefits without getting you high. Full Spectrum CBD products only contain less than 0.3 THC.
And CBD isolate?
CBD isolate is CBD in its purest state (99%). The active compounds in the hemp plant are removed during extraction. During refinement, all the other phytocannabinoids, including THC, are stripped away leaving behind only the CBD chemical compound. CBD isolate can be produced using different processes including supercritical carbon dioxide (CO2) and ethanol-based extractions. Depending on the process, the CBD isolate either comes as large CBD crystals or a fine white powder. Both are odour and taste free.
Why choose Narrow-Spectrum CBD?
Less strong hemp flavour for a lighter, smoother taste
The CBD has been distilled so the other natural compounds are present in much smaller quantities – you get the benefits of CBD on its own
No THC
A good place to start if you're just starting CBD
Why you might want to choose Broad Spectrum or Full Spectrum CBD instead.
Research suggests that broad and full spectrum CBD oils have a more potent effect as they contain different cannabis/hemp plant compounds that work more effectively together. This is called the 'entourage effect.' We don't yet know exactly how it works and more research is needed to determine the full benefits.
In addition to CBD, Full and Broad Spectrum CBD oils often also contain:
Cannabinol (CBN)
Cannabichromene (CBC)
Cannabigerol (CBG)
Cannabidiol acid (CBDA)
Cannabidivarin (CBDV)
What are the benefits of CBD?
Since the 1960s when research into CBD really took off, scientists have been exploring its benefits and potential to manage a wide array of conditions. We still don't know everything, but evidence seems to suggest that CBD can help with:
CBD for pain
Research highlights CBD's capacity to reduce inflammation and pain by interacting with the body's endocannabinoid receptors and neurotransmitters.
CBD for anxiety
With a calming effect on the central nervous system, CBD oil is increasingly being explored as a natural and complementary way to deal with stress, depression and anxiety.
CBD & cancer
Research also indicates that CBD has the potential to help manage or reduce certain symptoms for cancer sufferers and the side effects of cancer treatments like nausea, vomiting and pain.
CBD for acne
With anti-inflammatory properties and the capacity to reduce sebum production, CBD is increasingly being used in skincare products and considered as a treatment for acne.
CBD & neurological disorders
CBD could also have benefits for neurological disorders like epilepsy and multiple sclerosis.
CBD for the heart
Some researchers also believe that CBD can have a positive effect on the heart and circulatory system, for example, helping to lower high blood pressure.
More and more research is being carried out into the benefits of CBD and other cannabinoids. Watch this space as we find out more about how CBD interacts with our bodies to help restore natural balance (homeostasis) with a positive impact on our health and wellbeing.
What kind of Narrow Spectrum CBD should you choose?
Although there are far more Broad Spectrum and Full Spectrum CBD products on the market, a growing number of brands are launching Narrow Spectrum CBD options.
Narrow Spectrum CBD is currently most commonly available as an oil. Alternatively, you could opt for CBD Isolate, which is very similar but has no other plant compounds in it. It is 99% pure CBD.
Things to bear in mind when picking your Narrow Spectrum CBD oil
Make sure the Narrow Spectrum CBD oil meets certain safety, quality, and transparency criteria. Here are some key questions to ask.
Has it been third-party tested by an ISO 17025-compliant lab?
Is the hemp grown in a country with stringent regulations?
Is the Brand transparent about the ingredients and processes?
Discover a full range of Narrow Spectrum CBD oils, right here on mellow.
For more tips and insider advice, browse our blog.
Narrow Spectrum CBD oils
Super-distilled CBD
Limited amounts of other natural compounds
No THC
Smoother taste
All products on mellow have 3rd party lab reports
Read More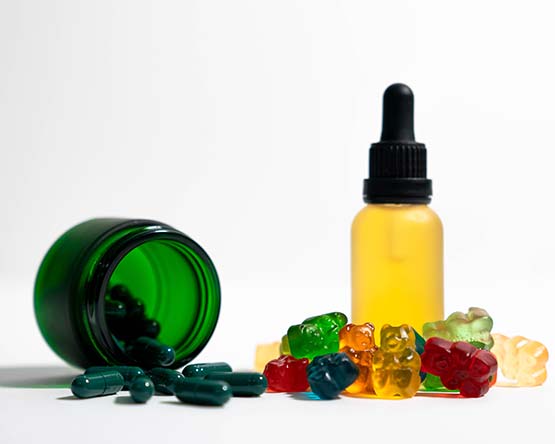 Choosing the right CBD product
We understand it can be quite daunting when choosing your first CBD product so have a read of our handy guide to help you choose the product that's right for your needs.
Help Me Choose
Narrow-Spectrum CBD Oils

FAQ

What is Narrow Spectrum CBD?

The CBD in Narrow Spectrum products is in a more filtered form. Advanced chromatography and distillation techniques are used during extraction to produce a lighter flavour. This leaves you with a "ultra-distilled" CBD Oil with reduced amounts of other naturally occurring cannabis compounds and no THC.

How is it different from Broad Spectrum CBD?

The main difference between the two is the extraction method. Broad-spectrum CBD oil contains a multitude of cannabis plant extracts such as essential oils, terpenes and cannabinoids, as well as cannabinol (CBD). The double distillation-extraction process retains all these compounds, except the THC, which is removed. As a result, the CBD has a stronger flavour and thicker consistency (versus Narrow Spectrum CBD Oil).

Which CBD is best: Full, Broad or Narrow Spectrum?

There is no right or wrong answer. The "best" product is the one that fits your routine, needs and preferences. For anyone interested in combining the benefits of all the different plant compounds, Full Spectrum CBD oil is a good place to start. However, if you want to avoid THC while still benefiting from the different plant compounds, Broad Spectrum CBD could well be your best bet. If you what to know exactly what you are taking, CBD isolate offers you 99% pure CBD. Alternatively Narrow Spectrum CBD oil offers ultra-distilled CBD with only small amounts of other plant compounds.

What's the recommended dosage?

Once again this is a personal matter and depends on factors like your weight and desired benefits. Many suggest beginning slow and low. For example, you could take 20mg per day and gradually increasing by 5mg a week until you feel that you're getting the full benefits. One of the advantages of Narrow Spectrum CBD is that it's easier to know how much you are taking, as it only contains small amounts of other compounds.

Is all the Narrow Spectrum CBD sold on mellow third-party tested?

Yes, mellow offers a curated range of CBD products. We carefully choose the CBD brands we work with based on criteria such as how transparent they are about the ingredients and processes. All the CBD products have undergone 3rd party testing – detail can be viewed and downloaded on each product page.

What is the difference between hemp and marijuana?

The two plants are similar. The main difference is that marijuana contains a lot more THC - the psychoactive compound that gives you that "high" feeling. Whereas hemp only contains small amounts of THC. This is completely removed in CBD isolate, Narrow Spectrum and Broad Spectrum CBD products.

Are there any side effects when taking CBD?

CBD oil is considered well tolerated and safe. In rare cases, CBD can generate an adverse reaction with possible side effects including diarrhoea, appetite and weight changes, and tiredness.