Beauty
CBD is making its way into more and more skincare and beauty products. Combined with natural, active ingredients, it has the potential to make your skin more radiant, youthful and pimple-free.
Does CBD really have a positive effect on your skin? And, if so, how exactly do the CBD serums, creams, masks, and body and face oils work?
Let's take a closer look.
More and more skincare brands are focusing on natural ingredients that work in harmony with the skin. This is often part of a holistic, natural approach to wellbeing based on plant-based ingredients … including Cannabidiol (CBD), which is an increasingly popular active ingredient in beauty and skincare products.
What is CBD?
First of all, let's quickly recap what CBD is and how it interacts with the body.
CBD (cannabidiol) is a non-psychoactive - that means it you won't get high and isn't addictive - compound found in the Cannabis plant.
CBD is thought to interact with the body's endocannabinoid system, which helps keep everything in balance – from appetite to hormones and mood.
As a result of this (and other interactions with the body), CBD seems to have a positive impact on stress and anxiety, pain, as well as inflammation and other benefits for the skin.
How can CBD help your skin and enhance your beauty routine?
Findings suggest that CBD holds promise for managing some skin conditions, although it's still early days. In some cases, it could even replace topical corticosteroids - without the main side effects.
Certain studies suggest that it has a positive effect on inflammatory skin conditions and cutaneous scars. Others that CDB could help with acne.
Known for its healing properties, "cannabidiol offers some serious antioxidant and anti-inflammatory benefits which can be beneficial in treating skin concerns like inflammation, dryness and free radical damage," explains Ildi Pekar, NYC-based aesthetician and founder of her own eponymous skincare line.
In the words of Danielle Frey, owner and licensed aesthetician at Bloom Skincare Mendocino, "the endocannabinoid system is a complex matrix of cell receptors responsible for balancing many key functions of the skin, such as oil production, melanocyte production (also known as pigmentation), and much more…CBD is an incredibly effective ingredient in skin care due to it being a powerful antioxidant and providing anti-inflammatory benefits."
CBD and inflammation
One of the major purported benefits of CBD skincare is its anti-inflammatory effect.
Inflammation enables the body to fight harmful invading agents, such as infections and toxins, by releasing chemicals to trigger an immune response. Chronic inflammation is when this response leaves the body in a constant state of alert. Research suggests that cannabidiol is a plant-based, natural anti-inflammatory agent.
This anti-inflammatory effect - combined with other benefits - means CBD has great potential as an active ingredient in different kinds of beauty products and skincare.
CBD for acne
Given its anti-inflammatory properties, CBD seems to help reduce redness, pain, and swelling associated with Inflammatory acne. CBD could also regulate the hormones involved in producing oil, in turn reducing excess sebum.
CBD for aging & free radicals
CBD seems capable of reversing oxidative stress and its damaging effects. CBD also seems to have moisturising properties that can help combat dehydration and dryness - hemp contains Omega 6 and Omega 3 that stimulates collagen production, which prevents excess water loss.
What's more, as a plant-based natural antioxidant that reduces inflammation, hydrates and fights free radicals, CBD could also help reduce visible signs of aging.
CBD for other skin conditions
CBD has been shown to help combat irritation and inflammation caused by eczema, as well as chronic skin conditions such as psoriasis and dermatitis. It could also play a role in calming rosacea flare ups (redness and visible blood vessels) thanks to its anti-inflammatory properties.
Large-scale clinical trials are necessary to fully understand how CBD interacts with our body and skin. While research on CBD's benefits is still fairly limited, it is important to remember that it is considered safe to use topically.
Using CBD for skincare
Where do you start?
All cannabidiol-infused products are formulated using full-spectrum CBD oil, broad-spectrum CBD oil or CBD isolate. You'll need to decide which one works best for your beauty and skincare routine.
Here are the main differences.
Broad Spectrum CBD oil
This Broad Spectrum CBD contains numerous cannabis plant extracts. These include essential oils, terpenes and cannabinoids especially cannabinol (CBD). All the THC is removed.
Full Spectrum CBD oils
Full Spectrum CBD also contains different hemp plant compounds including very small amounts of THC. This is thought to optimise the benefits without getting you high.
CBD isolate
This is the purest form of CBD (99%). All the other phytocannabinoids, including THC, are removed leaving the CBD chemical compound in its purest form.
How are CBD beauty products applied?
Next, it's time to choose the delivery/application method. This really depends on your preferences and existing beauty routine. There are no right or wrong answers. Brands offer an ever-wider choice of CBD-infused beauty and skincare products, from face creams to shower gels and eye serums.
Some CBD skincare and beauty products are sprayed, other massaged in or applied as a mask.
Choose the CBD skincare products that fit your beauty routine and provides additional benefits that fit your needs like hydration.
Explore our shelves too.
Things to remember when choosing your CBD beauty products
Make sure the CBD brand is transparent and check that it provides third-party lab reports
Remember that CBD isn't a miracle solution and won't immediately make your skin youthful and spot-free – however, it can play an important role in a holistic, natural approach to health and wellbeing
If you have any pre-existing medical conditions or skin problems, consult your doctor first.
CBD for beauty essentials

Research suggests that CBD helps reduce inflammation and acts as a powerful antioxidant
CBD can play a role in a holistic approach to wellbeing – although it isn't a miracle cure
Experiment with the right CBD products for you and your skin
Read More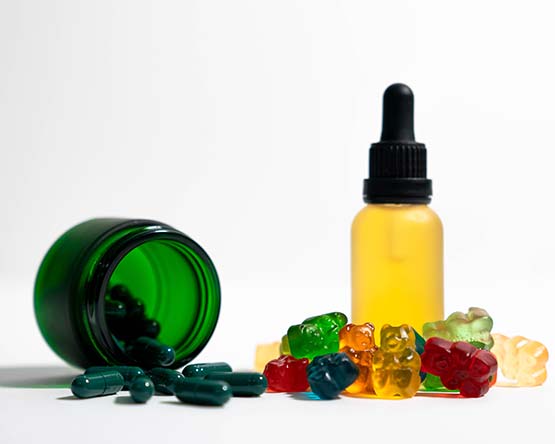 Choosing the right CBD product
We understand it can be quite daunting when choosing your first CBD product so have a read of our handy guide to help you choose the product that's right for your needs.
Help Me Choose
Beauty

FAQ

What exactly is CBD?

Cannabidiol is a non-psychoactive – meaning it you won't get high and isn't addictive - compound that naturally occurs in the Cannabis Sativa plant family (cannabis and hemp plant).

What is CBD oil?

CBD oil is made from CBD (Cannabinol), which is extracted from the Cannabis Sativa plant family and mixed with a carrier oil like hemp seed or coconut oil. This can then be infused into skincare and beauty products.

What is CBD Isolate?

CBD isolate is the purest form of CBD. It doesn't contain any other cannabis plant compounds.

Is Full Spectrum, Broad Spectrum or CBD Isolate better for beauty products?

This is very a personal matter. Each of us has our own preferences and needs. Remember that Full Spectrum CBD contains a number of different cannabis compounds offering you the purported benefits of the entourage effect – this is the idea that the different compounds work most effectively together. If you're sensitive to THC or want to avoid it taking it, broad-spectrum CBD is a good option. You'll get some benefits of entourage effect without any THC. As it doesn't contain any other compounds, CBD isolate ideal for anyone who wants to only take CDB and how exactly how much they are taking.

How much CBD should you apply topically?

It can be hard to judge exactly how much topical CBD you are adding. Always check the label carefully to see how much CBD the product contains. Too much of anything can irritate your skin, so start slowly and see how your skin reacts. You can always add more gradually or choose a more potent product next time around.

Are the CBD beauty products on mellow third-party tested?

Mellow features a curated selection of CBD products. We only work with trusted brands that are transparent about their products, ingredients and processes. This means all products – including CBD skincare and beauty – have been tested independently. The reports can be viewed and downloaded on the product pages.

What are the side effects of taking CBD?

CBD is generally well tolerated and considered safe including for topical application. In some very rare cases, it may cause an adverse reaction: diarrhoea, changes in appetite and weight, and fatigue.